Paper Plate Alternative: An Eco-Friendly Option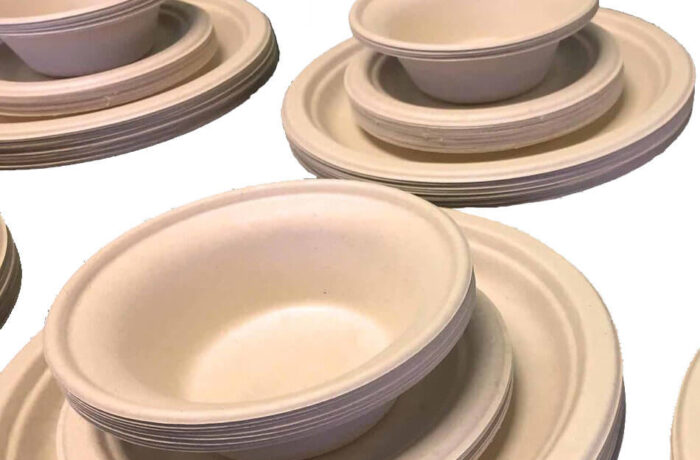 As sustainable living shifts from being a trend to being a necessity, finding eco-friendly options for our everyday life staples is a must. As there is a surge in restrictions, most establishments are requiring single-use dinnerware. Consider a switch to a more sustainable paper plate alternative.
For most, it all starts with having green packaging that is made with sustainable packaging materials. This is a huge step, especially for the food and beverage industry that produces a lot of waste when it comes to preparation and packaging. 
One of the best eco-friendly alternatives for paper plates and other packaging solutions is molded pulp packaging. Here's why:
1. Molded Pulp Packaging is the Paper Plate Alternative That is 100% Recyclable and Compostable
The problem with paper plates is that most paper products are lined with plastic. The plastic sealant makes the whole plate and packaging unable to be recycled. So while many products present themselves as "green", they are not made from sustainable packaging materials which defeats the whole purpose. 
Molded pulp packaging is 100% recycled and compostable. Every product of this type is made with sustainable packaging materials that don't endanger the environment. 
2. Molded Pulp Packaging Comes With Many Options To Suit Business' Needs
One of the many reasons why a lot of establishments find it hard to switch to green packaging is because there is no sustainable packaging available that fits their needs.
Molded pulp packaging is a great alternative. MPP has different varieties ranging from eco-friendly dinnerware for foodservice to custom packaging for shipments. It comes in all shapes and sizes, lightweight, and compact without compromising the quality of the packaging and your product.
This sustainable packaging is not just limited to paper plates. Consider eco-friendly to-go supplies, agricultural trays, canisters, and more.
3. This Eco-Friendly Option is Designed Innovatively
Since molded pulp packaging is made with sustainable packaging materials, each product is designed to provide high-quality results that surpass the non-sustainable variants. Consider Molded Pulp Packaging as a paper plate alternative. 
Each molded pulp packaging takes importance on making sure that your products are well-protected for your packaging needs. They are made to be shock-absorbent to withstand the shipping process and at the same time, space-efficient. This makes both the packaging and the shipping cost-effective.
4. Dinnerware That is Accessible to All
Green packaging and other products made with sustainable packaging materials can be hard to regularly get for your business since there's not a lot of companies out there that produce sustainable packaging.
If not for the difficulty of location, then the price might be the issue. Other packaging options are expensive and the pricing difference is difficult to ignore. 
Molded pulp packaging is highly affordable for businesses that switching to sustainable packaging won't be an issue for most. They are also widely available globally so you can utilize green packaging for your business wherever you are. Consider an eco-friendly option for your paper plate alternative.
Lastly, molded pulp packaging can be customizable to your own specific needs. If you can't see the packaging that is right for you from their wide catalog, then you can have one specially made for you. This makes molded pulp packaging an ideal eco-friendly solution at many levels.